Class Dojo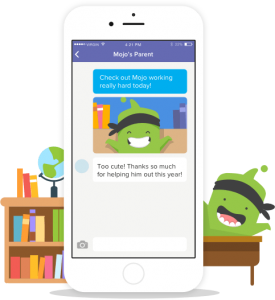 In Akrotiri School we use ClassDojo across Key Stages 1 and 2.
Class Dojo is an interactive reward system that allows you to see how your child is getting on in school.
Our pupils enjoy it and have said:
"It's brilliant! I love it! It's amazing!" Alfie.
"It's very good because your parents can see all of your hard work." Vinnie.
"ClassDojo is great for communication and keeps parents informed about school and class events." Amelia and Chloe.
"When you come home from school and your parents ask you what you did, and you say 'nothing' they now know that isn't true! And when they ask you how you are getting on, you can't just say 'fine' because they know how you are doing because of Classdojo!"   Sienna.
You will receive an invitation from your child's teacher to join Class Dojo.  After you have signed up, you will be able to see what your child is doing in school through the 'Class Story' feature.   Class Story will be updated regularly and will include key events and photographs.
ClassDojo informs you when your child receives a Dojo point, and what it is for.   Dojo points are given for a variety of reasons and encourage children to work hard and participate fully.  As a class the children and their teacher agree which behaviours should be awarded a Dojo point.  Our school values are also rewarded through ClassDojo.
Messaging is another useful part of ClassDojo and parents and teachers can communicate with each other very easily.
You can use ClassDojo on an app for iOS and Android, and also from a computer at: www.classdojo.com
Please read our Class Dojo Guide for Parents here: Class Dojo Guide for Parents
If you would like to find out more, and how safe and simple it is, visit:
www.classdojo.com/PrivacyCenter
We look forward to seeing you on ClassDojo and sharing our class stories with you.