Situated in the Western Sovereign Base Area of Cyprus, Akrotiri School is an extraordinary place in which to learn and work. History, nature and technology exudes around every corner and even in the skies above us. Our unique context is the starting point for an engaging curriculum which aims to reflect our motto 'Roots to Grow and Wings to Fly'.
I am immensely proud to lead this exciting school which sits at the heart of RAF Akrotiri Station. Active involvement from our community reflects the pride in our school and I never fail to be impressed by the children who come with a wide experience of different schools and countries. Whether you have just arrived or have been here for longer, you will be amongst friends. You won't feel 'new' for long as you become immersed with strong friendships and exciting learning.
We have an amazing staff at Akrotiri School who understand how your move to Cyprus could be both exciting and worrying. This highly effective team will help you settle into your new surroundings and support your transition. Soon you will be an active learner at Akrotiri School – and we can't wait to meet you!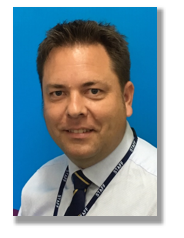 Ben Turner
Headmaster