We are very proud of our Library, which is well stocked with a wonderful selection of books for all our readers. Please encourage your children to make full use of the facilities.
The Library System
Akrotiri School uses a computer operated library system. Each pupil is allocated an individual barcode and this is used to register the issue and receipt of all library books. The books are now scanned rather than date stamped.
Class Visits to the Library
Each class visits the library once a week on a day designated by the class teacher at the beginning of Autumn Term. All children are encouraged to borrow library books to enjoy at home and during reading sessions in class.
The book allowance is:
FS1& FS2:                           1 Book
Years 1&2:                          1 Book
Years 3-5:                           2 Books
Year 6:                                 3 Books
Please note that books are borrowed for 7 days and should be returned to school on the designated class library day each week. Please ask the class teacher or Librarian if you are unsure what day your child needs to return the books. Books may be renewed if the reader wishes, but they must still be brought into school each week in order to be scanned so that the library system may be updated.
Library Closures
All books must be returned to the library during the last two weeks of the summer term. This is to allow the librarian to stock take and prepare the library for the next school year. If you are being posted anytime during the school year please ensure all library books are returned. The library is still open for browsing at this time, children can come along to look and read quietly during their class visit.
Choosing Books
Akrotiri School offers substantial 'Non-Fiction' and 'Fiction' Sections for all reading abilities and ages, as well as, a well-stocked and easily accessible, 'Easy-Reading' Section for the younger reader. During the library sessions class teachers and the school librarian are always available, to offer help and guidance the children choosing books.
As a general rule we encourage all children to read books so that:
 they can enjoy reading by themselves or to parents/guardians
 they can share-read with parents/guardians
 they can have a book read to them by parents/guardians
Caring for our Library Books
We kindly ask that library books are looked after and not transported to and from school in a bag that also contains bottled/flasked water. We frequently have soggy books returned to the library, some of which are so damaged that they must be withdrawn from circulation, thus disadvantaging children who may be waiting to borrow particular books.
Misplaced or Missing Library Books
Children are regularly reminded by class teachers that they must return all library books to the librarian or are placed in the designated box in the library. This is so they can be scanned in as returned by librarian. If books for return are simply placed at random on library shelves, not only are they difficult to locate, but they retain their 'borrowed by' status, which results in them being designated as 'overdue'.  On occasions 'lost' school library books have also been discovered, by vigilant pupils, on the shelves of the Station Library.
Overdue Books
Overdue reminder notices will be issued to borrowers when books have not been returned/renewed for two or three weeks. These notices are designed to provide children and parents with details of the overdue books so that a search for the books may be made in the relevant classroom and at home.
Class teachers and the school librarian will always work with parents and children to try and locate missing library books.
Unfortunately, should library books become lost or irreparably damaged parents will be asked to make a contribution, not exceeding €10 per item, towards the cost of replacing the book(s) in question. If preferred, parents may choose to source a replacement item from book shops or via the internet.
Library Book Wish List
Members of staff, parents and children are always welcome to add suggestions and recommendations to our Book Wish List which is held in the school library. Please include individual ISBN numbers for each suggestion, these are the 10 or 13 digit numbers, which may be found on the back of books, they may also be sourced via book websites such as Amazon.
Book Donations
Akrotiri School is always very appreciative of new books donated by pupils and families. A book plate detailing the name of the donor is affixed to each book before it is put into circulation.  This practice causes much delight amongst pupils who enjoy choosing a book which has been donated by a former friend/pupil of Akrotiri School.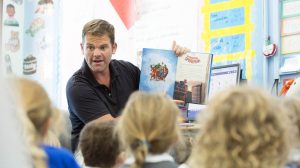 Book Reviews
These may be thoughtful, exciting, entertaining, funny, informative, illustrated or a mixture of these styles.
In any event, Fiction or Non-Fiction book reviews by pupils are particularly welcome in the library as they both inform, and encourage other readers to try different authors and genres. All reviews will be displayed, for a time, in the school library area.  Y1 and Y2 pupils may prefer to submit a picture of a favourite character or scene from a book that they have borrowed and enjoyed, with, if they wish, a short sentence underneath.  Pupils should write their names clearly on the front of each review.  Remember to invite mum & dad to the library for a viewing!  All reviews/pictures submitted will earn the author/creator at least 1 house point!
Poetry
The library has a dedicated Poetry Section with a range of anthologies and individual works. Many children are enthused by poetry and again we invite pupils to submit examples of their own poetry for display in the library area.  Once again, at least 1 house point!!!