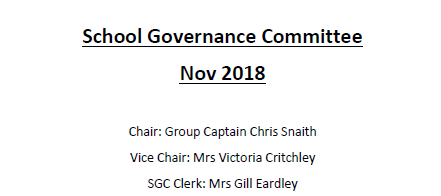 CHAIRMAN'S WELCOME
As Station Commander here at RAF Akrotiri I have the privilege of acting as Chairman of the School Governors Committee (SGC) for Akrotiri School. Over the last 10 months I have seen at first hand the hard work that the staff, governors and children have put into ensuring the school is a success; success that is demonstrated at each assembly, concert, sports day or academic assessment.  I see the school as the beating heart of our community and a strong relationship between the school, SGC, Station and parents is essential if this is to continue.
RAF Akrotiri remains the busiest main operating base in Defence. Delivering the unrelenting pace of operations and exercises places significant strain on the community as a whole – strain which can be felt both professionally and domestically.  Reducing this strain is one of my major priorities, with the School, and indeed childcare more broadly, being fundamental to that.  A key part of the strategy to deliver this is the SGC.  Whilst the role of the SGC at an overseas MOD School is subtly different from a school in the UK, what remains constant is the need for the Committee to both support and challenge the school in all areas.  To do this, governors take an active role: attending assemblies, meeting and supporting the curriculum and year heads, supporting safeguarding initiatives and acting as a critical friend if and when required.  As the changes and initiatives introduced over the last few months bed in, I have seen genuine progress in areas across the school; this would not have been possible without the school's strong senior leadership team, supported by the rest of the staff and governors.  The children have responded with joy and enthusiasm which has had a knock-on effect on the parents and, in turn, on the Station as a whole.  As we look forward to a new headmaster arriving at the beginning of the next academic year, we could not be in better shape and will continue to integrate and improve the links between the school and the wider military community through Section visits, the Station Fun Day, commemorative events and combined initiatives like the Road Safety Campaign.
In summary I welcome you to our community and our School and would encourage you to get involved and support us in every way you can. Akrotiri School is at the heart of our community; together we can ensure that it remains a special place where our children can flourish.
Useful Links:
SGC Code of Conduct 2019 Akrotiri Primary School
If you are interested in becoming part of our SGC, please contact the school for further information.